Who we do it for:
Anchor Trust, AMH, Apple, AQA, BP, Bryan Cave, Cadogan Clinic, CYC, Carlton Books, City & Guilds, Contact-Creative, Convergys, Cordek, Credit Suisse, Global Risk Evaluations, House of Commons, Just Add Water, Linklaters, Norman Waterhouse, Nine Yards, Norton Rose, PepsiCo, Radmat Building Products, Romans Property Group, Scandfit, Svensk Vodka, The Aesthetic Surgeons, University of Cambridge, Walkers, Waterhouse Young Clinic, Watkins Superyachts, Wavelength Group

Client: House of Commons
Brief: brand identity // collateral // print // digital assets
The agency was commissioned to create a brand framework and resulting identity for the 2015 Parliamentary anniversaries commemorating the sealing of Magna Carta (1215) and the beginning of modern democracy with Simon de Montfort's parliament (1265). Other anniversaries will be celebrated throughout the year.
Advantage was responsible for creating digital media, printed items and an animated sting, which can be seen on the London Underground (see the sting here on Vimeo or YouTube).
Visit: Banner artist videos // Vimeo // YouTube
2015: Parliament in the Making | Brand identity
MY Luna | Superyacht marketing
Client: Radmat Building Products
Brief: brand application // stand design // digital assets // animation
We were proud to design the stand for the revolutionary insulation product ProTherm Quantum for Ecobuild at Excel. A suite of elements were designed including floor graphics and animations. Foot-fall was healthy while the the stand was extremely busy for the 3 day exhibition. Images here were taken before doors opened.
Quantum® stands out | Exhibition design
Medical procedure CG animations
Client: The Aesthetic Surgeons
Brief: 3D modelling // animation // processing
The agency has created a set of informative animated videos for The Aesthetic Surgeons to reassure patients of impending surgery and to clarify the complicated procedures. Using 3D models and a calming colour palette we were able to convey what can be a difficult subject clearly, empathetically and engagingly. Voice-overs were recorded by the surgeons themselves.
See all the videos here: Website
Client: Watkins Superyachts
Brief: photography / video / marketing / advertising / web site
City based marine specialists Watkins Superyachts were appointed as central charter agency and managers for LUNA, the world's largest luxury explorer-class superyacht.
At 115m long, the Lloyd Werft design was launched in 2010 to much acclaim, gaining fame with its connection to her then owner, Roman Abramovich. LUNA is able to travel vast distances without refuelling and carries full-world charts enabling her to reach almost any point on Earth bordered by water. While the tip of her mast is 112ft from the waterline, her keel is only 20ft deep. She was also the only private yacht to enter the Great Lakes.
Advantage assisted at all levels of marketing this stunning vessel, commencing with a stills and video shoot, with much of the exterior footage captured using a high-end remote, multi-rotor drone camera. The agency was responsible for creating the subsequent video, microsite and supporting materials.
Going green for LEGO
Advantage was recently commissioned to assist in photographing a number of child and adult models using Chroma Key for green screen processing. The models were asked to pose as if in various activities, rides and situations, requiring careful management, lots of music and even some water! The photography will feature as part of ongoing Legoland promotional material.
The shoot took place at LEGO HQ and required multiple lighting angles to match existing exterior photographs for later post processing and compositing.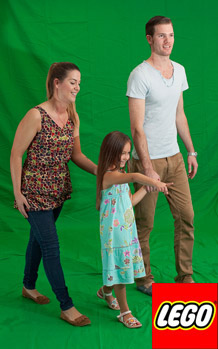 The Telegraph Weekend section ran a feature on Saturday featuring our upcoming book The Great Global Treasure Hunt on Google Earth next Saturday. The book officially launches on September 1st. The book's designer and illustrator Jon Lucas was featured on the front page along with author Tim Dedopulos.
A feature on pages 2 and 3 included a specially designed puzzle envisaged by Jon with clues from puzzle-master Dedopulos.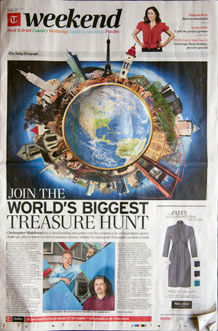 Holiday Hotspots VR
Top agency Freuds has commissioned Advantage to produce a VR puzzle for Compare The Market. Viewed in full 360 as well as in still mini-planet form the illustration includes references to geographical places which the participants must guess in order to win a holiday.
Eminent Harley Street surgeon and father of actress Suki, Norman Waterhouse has formed a new entity named The Aesthetic Surgeons. Alongside master nasal and cleft palate surgeon Duncan Atherton, their specialisms include reconstructive and cosmetic surgery for the face and body - working from their London based practice. Naming, brand, procedure animations and website by Advantage.
Advantage has redesigned the identity for ad-agency favourite and long established design resource, Contact Creative.
A modern, hand-drawn logotype was created along with a symbolic networking device to assist in conveying the new impetus of digital media and connectivity for its users and clients.
The agency was also responsible for a refresh of its website front-end aesthetic.


The agency has been busy developing apps and content for augmented and virtual reality for various clients. From computer generated environments to motion graphics in 360 (much of it unfortunately top secret) we are able to deliver new worlds for our clients' audiences.
Radmat take Advantage
The agency is now working with fast-growing building and roofing company, Radmat, producing a wide range of material including web, digital media, packaging, CG visualisations and location photography & video. The company's innovative products and services provide architects and contractors opportunities to be creative while reducing the cost, time and environmental impact of their projects.
Advantage is also responsible for on-site and aerial photography as well as CG samples of their products.
​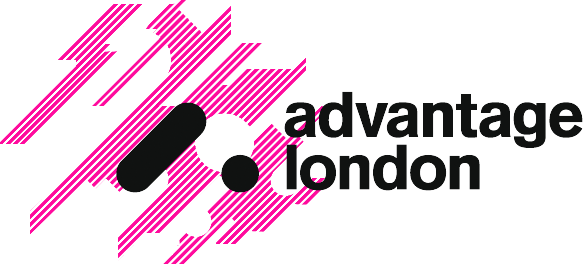 absorbing creativity since 1993
What we've paid our clients to say about us…

Going up | The E4levator | Esting
Client: Channel E4
Brief: 3D modelling and animation
A 10 second short story is not as easy as you might think. The time rushes past and camera movements, cuts and angles are painfully apparent if they're not right.
This entry for the E4 Estings competition was created by Jon, our creative director in Lightwave 3D and After Effects in a very short space of time and he found the process quite cathartic. Jon created an E-partment block where E-folk floated gracefully around watching quirky retro film footage 24/7, surrounded by electric colour-changing wallpaper!
Visit: Vimeo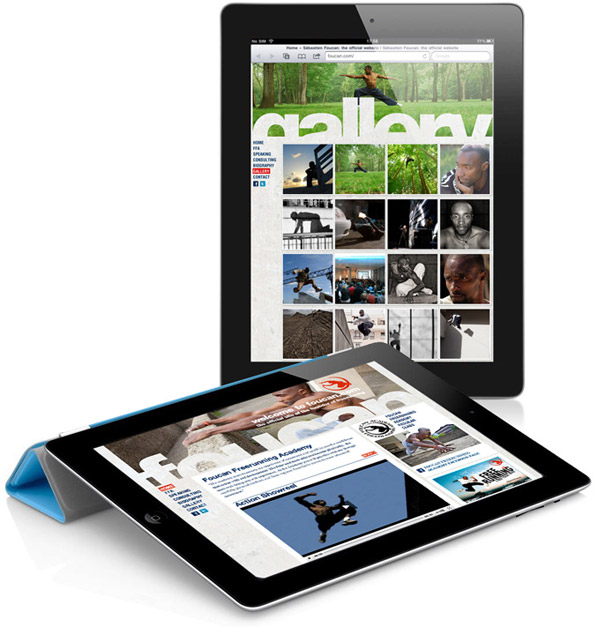 Off and running
Client: Sébastien Foucan
Brief: Branding | website
Freerunning founder, James Bond star and all-round inspiration Sébastien Foucan has launched an Advantage designed website to convey his ethos and to promote his instructional programme Foucan Freerunning Academy.
Ex firefighter Sébastien, who now lives in London needed a visually engaging experience with a flexible layout to adapt to the level of content required at any given time.
His need for a CMS (content management system) and online booking facility required cross-platform integration and a need for full accessibility across mobile devices..
UPDATES | WORK | BRAND | CONTACT
Advantage London | a design agency: brand // digital // app // advertising // 3D // photo // motion // AR // VR // type // print // copy
© Advantage London Ltd
All rights reserved. All TMs acknowledged.